There are many factors to consider when you buy a house. Price…location…school district…type of loan…  One more issue you'll want to understand before you buy in California: Mello Roos. Understanding Mello Roos is critical if you're new to the area, and come from a part of the country that doesn't have the same kinds of rules, regulations, taxes, and requirements as California. You won't find Mello Roos in every state, but you will in California, so if you're planning to live here, it's best to understand what they are and how they might impact you before you commit to your purchase.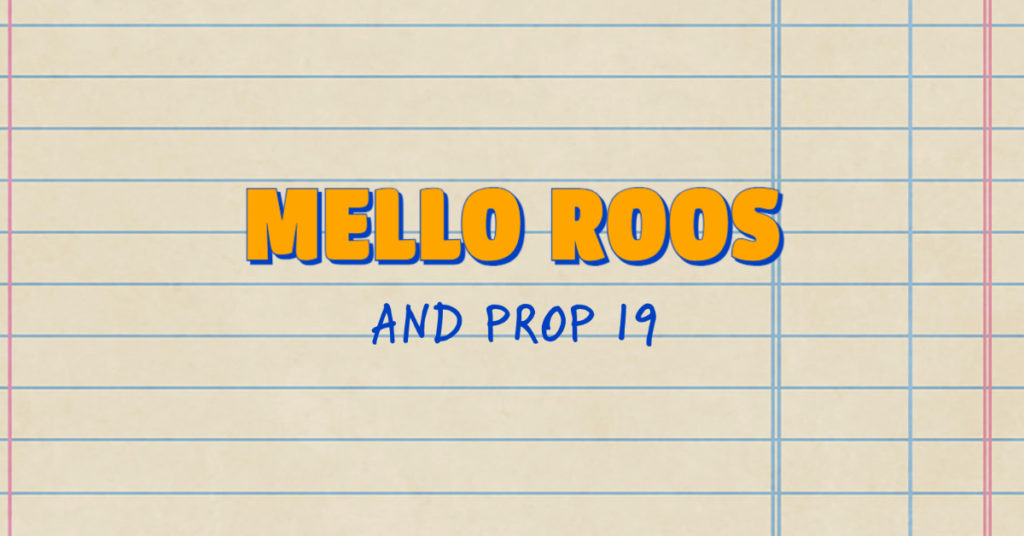 What Are "Mello Roos"?
Mello Roos are specific types of districts. The state established them as a way to get additional funding. Their real name is Community Facilities Districts (CFD), and they help pay for public services and public works. They can be used by cities, counties, special districts, school districts, and joint powers authorities. While it might sound confusing, it's actually just a way of getting additional revenue dollars to make improvements in a particular location.
It's Kind Of A Strange Name. Where Did The Name Mello Roos Come From?
Mello Roos is named after the original authors of the legislation that created these districts—Senator Henry J. Mello and Assemblyman Mike Roos. Together their names form what people most commonly associate with these types of districts, but no matter what people call them, they are used to bring in additional money for public projects and improvements.
And What Does Proposition 19 Have To Do With Mello Roos?
Mello Roos is a parcel charge. The parcel charge is based on aspects of the property having nothing to do with valuation. Square footage, for example. For example, Mello Roos can also be equal for all parcels no matter size/use (i.e., the SFUSD Mello Roos rebuild)
Prop 19 covers the portability of property tax basis. It has absolutely nothing to do with Mello Roos districts. The parcel assessments are realized when a geographic area undertakes a vote to collect additional revenue for a specific period of time for a specific purpose.
Mello Roos is always an additional parcel charge that benefits the parcel being charged for it. It wouldn't make sense to take it with you to a new parcel. And while you might not have voted for the Mello Roos assessment at your new home, someone did and the obligation runs with the parcel, not the owner. Those are just the rules. Until we make a law to change them.
Deciding whether to live in a Mello Roos community is a decision only you can make after carefully considering your own personal pros and cons. Once you understand the actual cost of the special assessment, what it'll be used for, and how long it will last, you'll be able to decide if it's worth it to you.
Prop 19 has several aspects to it including property tax portability, and our Prop 19 Overview is a great place to start for an overview. Our Prop 19 Calculator lets you input your information to see your Prop 19 tax savings.