What Exactly Is a Condominium Anyway? 
Strictly defined a condominium (condo) is a privately owned individual unit within a community of other units. In general, the owner usually owns the interior of their condo from the walls in. Owners also jointly own shared common areas within the community, such as pools, garages, elevators, and outside hallways and gyms, to name a few. While condos are typically found in SF high-rise buildings, we even have some detached condos. A condominium has its own APN/Parcel ID/Tax ID allowing it to be bought and sold independently of the common areas or other homes in the building.
This post is another in our "Housing Styles of San Francisco" blog series.
Condo ownership was not available until the early 1960s because before then, it did not exist. You could buy a unit building, you could buy a stock cooperative or a single family. But not a condo.  Here is San Francisco, 631 Hamilton in the Tenderloin was the first building converted to condominiums in San Francisco (1967-ish).
Is A Condo A Planned Urban Developments (PUDs)? How Are They Different?
No, a condo is not a PUD. While they share many characteristics, they also have one substantial difference!
Both are considered to be common interest developments (CIDs), a form of development designed to combat declining availability of land and need for increased housing density.
Both a Condo and a PUD give a buyer:
Common ownership of private residential property;

Mandatory membership of all owners in an association that controls use of the common property;

Governing documents that establish the procedures for governing the association, the rules which the owners must follow in the use of their individual lots or units as well as the common properties; and

A means by which owners are assessed to finance the operation of the association and maintenance of the common properties.
But, In A PUD…
In a PUD you own and are responsible for everything within the lot/area/space as recorded in the tax records/tract map/parcel map, which is substantially different from a condo where ownership is walls-in. In a PUD you are responsible for your plumbing, foundation, roof, etc. and you also have the right to use the community amenities.
Said another way, he owner(s) of a unit within a typical Condominium project owns 100% of the unit from the walls-in, as defined by a recorded Condominium Plan, and they will own a fractional or percentage interest in all common areas of the Condominium project.
The owner(s) of a lot within a PUD own the lot which has been conveyed to them-as shown in the recorded Tract Map or Parcel Map-and the structure and improvements thereon. In addition, they receive rights and easements to use in common areas owned by another-frequently homeowner's association-of which the individual lot owners are members.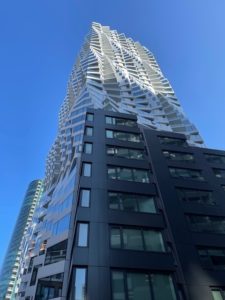 Why Should I Buy A Condo?
Independent conveyance means no more entry interviews with the owner's board, seen as a way to reduce discrimination in real estate. Monthly homeowners association (HOA) fees help to budget in advance for repairs and protect against surprises that come with home ownership.
SF condos have become very competitive in what they offer regarding shared amenities, so condo ownership might come with gyms, pools, roof decks, dog-washing stations, outdoor/indoor theatres, business centers, and more.
Are There Different Kinds Of Condos?
While a condo is a condo is a condo you can find them in every shape, and size. One way to help narrow your condo search is to look at condos by building size.
Small Buildings
Small condo buildings have around 5 homes or fewer in total in the HOA. Most are informally run and usually handle business over email/messages/or passing conversations in the hallway. Small condo buildings also have the lowest HOA dues, fewest amenities, are least likely to accumulate cash reserves, and therefore require payments for repairs/improvements when they occur. We recommend you should budget and save like a single family.
Medium Buildings
These buildings typically have around 6-25 homes, and almost always have a property manager, sometimes on-site but likely not. Condos in a medium-size building typically have a more formal organization than the smallest condo associations. They are more likely to save for future improvements, expenditures, etc. You can expect regular, structured HOA meetings. The building may have some shared amenities like a pool.
Large Buildings,
Large buildings in SF have from 26-600 homes and are the most formally run. They typically have a professional management company with an on-site manager. HOA meetings are formally scheduled and run, meeting minutes are published and available. Large condo buildings also regularly collect reserves and budget for capital improvements. They will have the largest shared amenities that require common maintenance, building staff, or other additional resources. All of which also helps explain why large buildings typically have the highest monthly HOA dues.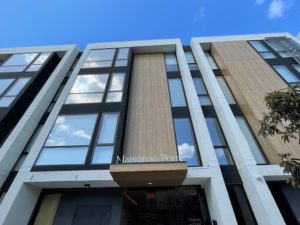 So Where Can I Find These Condos In San Francisco?
Small condo buildings can be found throughout San Francisco, from the Outer Sunset to the Marina to Pacific Heights. They are at all price points, from low to high. While some newer small buildings were built from day one as a condo, many older buildings have been converted to condos. Smaller buildings are most common in central SF older neighborhoods like Castro, Duboce Triangle, Noe Valley, Western Addition, Hayes Valley, NOPA, Alamo Square.
Larger buildings are most commonly found in SOMA/South Beach. Click here to browse condos for sale in San Francisco now! High-rise development in the north end of town (Russian Hill) led to a 40' defacto height limit in all of SF and major pushback on development, the beginning of the end of affordable housing in SF. See our Fear Of Heights blog post for more on this phenom!
So You've Bought a Condo? What Do You Put In It?
If you've purchased your very first condo recently or have downsized to one after living in a large home for years, you may be needing a little help to know how best to decorate the property. Condos are popular these days as so many people live and work in the cities. However, there is less room to work within these apartments than in single-family homes, so it's crucial to find ways to maximize space and make the condo work for you and your needs and tastes. Some top interior design tips focused specifically on condo decorating should help.
Lock In On Your Look
The first step is to decide on a design style. You want to create a sense of unity in your home, so it's best to figure out the look you're going for right at the start. For example, do you love a pared-back Scandinavian feel, a country farmhouse feel, a traditional design, or something else?
If you're not sure what you like and what might suit the space, research interior blogs and social media pages, check out décor magazines, and watch home renovation shows for inspiration and clarity.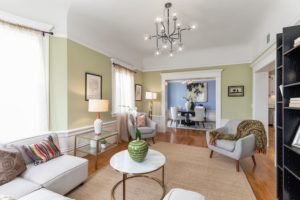 Focus!
Next, look at your condo clearly and identify the main focal points to highlight throughout. Condos have smaller space than single-family homes, so you can't have too many elements competing for attention visually. Instead, find the eye-catching things that can become a centerpiece, such as a heritage fireplace, a long wall you can make a feature of, interesting ceiling moldings, or stunning views.
You might also decide to make the focal points key pieces of furniture you already own or want to buy, such as a look-at-me couch or elaborate four-poster bed. Most condos are fairly open-concept due to their size, so features are typically seen from multiple areas. Discerning where to place your focus helps tie everything together and ensures you don't overwhelm the space with your design choices.
Trick The Eye
Another tip is to look for ways to trick the eye into thinking the condo is grander than it is. For example, add height in clever ways. Choose elegant, structural chandeliers and other lighting products that grab attention up higher, and install quality ceiling fans with lights to draw the eye, too. Plus, you can add floor-to-ceiling curtains or even bookcases to make walls seem taller than they are.
Furthermore, follow a strategy that most interior decorators use and put well-placed mirrors in rooms to give the impression of depth. The larger the mirror, the greater the effect. Mirrors also help increase the light within condo spaces, making them feel airier and more substantial. You could install a mirror above a sofa, on the dining room wall, in the entrance hall, or above a bed, among other places. As for positioning, it's best if the upper third of the mirror aligns with typical eye height.
Simple Color Story
When decorating your condo, think carefully about the color palette you choose. It's wise to opt for something simple and stick with tones of the same shade throughout the home to help pull everything together. Due to limited size and open-plan design factors in a condo, it's better to think of rooms as all vital parts of a bigger whole rather than opting to give each one a distinct hue.
Select the same pallet of colors for all the main elements of your property, including wall paint, cabinets, flooring, big pieces of furniture, and the like, and it will seem like each room extends into the next. In turn, this provides a feeling of spaciousness. The hues you choose could be anything, but many people decorating condos find that neutral shades such as white, beige, and gray are timeless and suit any architectural style.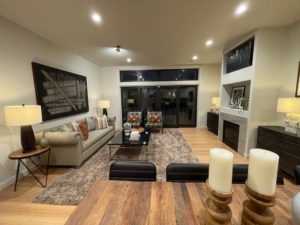 Plant Daddy (Or Mommy)
Living in a condo means you likely have little greenery in and around your building and, if your place is in a city, you may generally lack easy access to parks and nature as a whole. As such, it's nice to bring a little bit of plant life to your condo by way of potted plants or small vertical gardens.
You can keep plants inside or put them on your patio if you have one. If you're worried about not being much of a green thumb, choose succulents or other hardy options.
These are some of the key ways to create the finished look for a condo you love now and into the future. If you're still unsure where to begin or how to get the décor right, don't be afraid to turn to experts for help.
Check out our Condo Listings By Building here or contact Matt to start your search. You can also check out New Development Projects if you're on the lookout for new buildings coming soon.