The regular "Matt On The Market" series is moving to video. Matt Fuller brings decades of experience and industry leadership to his role as Founder at Jackson Fuller Real Estate. He regularly writes "Matt On The Market" to share his local SF real estate expertise with buyers and sellers alike. Now, he brings that same insight to video.
Join Matt Fuller as he discusses San Francisco Real Estate trends in this February 2023 update. Matt discusses hearing the signals through all the noise in the market, the Fed continuing to raise interest rates, and suggestions for local SF buyers and sellers. Watch the video in full here. https://youtu.be/Re-ZObEc9zE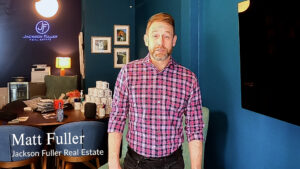 Past President of the San Francisco Association of Realtors, Matt Fuller, gives a market update on the SF real estate market and what trends he is seeing with buyer and sellers in January of 2023.
While there are numerous real estate market data and market trend sites, we believe that buyers are sellers want to know three things: How much, How Many, and How Long? Because the San Francisco real estate market is comparatively small and moves quickly, it can be a challenge to make a distinction between what is signal and what is noise when looking at market stats. Know what you're willing to spend and stick to your budget, depending on property type, neighborhood, and price point there may be room for negotiation.
Because SF is filled with hyperlocal micro-markets, talk with a local SF Realtor, me or one of my peers. Part of our helping clients understand the data so they can make smartly informed home buying and selling decisions.