One of the things that tops the list of "favorites" when San Francisco is mentioned, along with Karl the Fog and how "walkable" San Francisco is, would be  "the architecture." But naming "architecture" as a favorite SF thing is similar to saying another favorite is "hills". There are a lot of them, many people mainly think of just one or two, and many have their individual history.
Within its 49 square miles, San Francisco has one of the most diverse groups of residential architectural styles, from Art Deco to Mid-century Modern, including those ubiquitous Victorians and Edwardians. Imposing Spanish Mediterranean estates in Pacific Heights share the city with charmingly quaint English Tudor Storybook homes of Forest Hill. 
Some buildings, however, can be a bit more of a challenge to describe accurately. 
The Search for an Accurate Description for Marina Chateau
2701 Van Ness, The Marina Chateau in Cow Hollow, is one such building. When our team was building out the "Search By Building" page (one of over 250 pages on https://jacksonfuller.com/), we had a challenging time finding a description of the building's architectural style. So we turned to the MLS. After reading 100+ MLS listings, "art deco" was Marina Chateau's most common and most confidently proclaimed building style.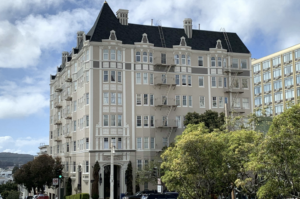 However, that doesn't make it correct. Further research suggests that long ago someone described it as art deco, that got written into an MLS listing for a home for sale in the building long ago, and ever since Realtors have copied and pasted inaccurate info when describing the building. A wrong answer long ago repeated often since then doesn't make it a correct answer. So on behalf of our industry, we apologize. This building definitely isn't Art Deco. 
Once we established it isn't art deco, we were at a loss for how to accurately describe it. We turned to our newsletter readers and architectural friends and received a variety of responses from "European Style, Art Deco Chalet masterpiece! 🏰🖼️" (the emoji are required) to "European Alpine inspired residential Villa" or "Swiss Bavarian Chalet." French Revival may just be the building style we've been searching for to better describe The Marina Chateau.
After doing an internet image search, we were able to find similar buildings in and around Los Angeles. The Granville Towers, which was originally an apartment building named The Voltaire, was built in 1930 in the French Revival style by architect Leland Bryant, who also designed the Sunset Tower Hotel on Sunset Boulevard.  The 7-story, 40-unit property was a celebrity magnet from the very beginning and such stars as Ann Sothern, Jack Lord, Arthur Treacher, Janet Gaynor, Rock Hudson, and even Marilyn Monroe called the place home.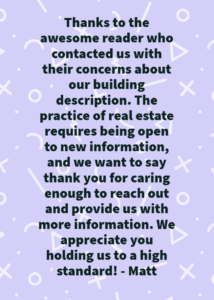 Updating the Building Description: The Final Verdict
We've updated the building description for The Marina Chateau at 2701 Van Ness based on the new information we've learned. While we grew fond of our interim "not Art Deco" description, we've updated the building style as French Revival. We'd love to hear your thoughts and suggestions! 
Looking for Properties in Marina Chateau or Other Cow Hollow Homes for Sale?
If you're in search of buying a home in Marina Chateau or looking at other homes for sale in the Cow Hollow neighborhood, Jackson Fuller Real Estate is here for you. With a deep understanding of San Francisco's real estate landscape and a commitment to providing personalized service, our team can help you find the perfect home that matches your preferences and needs. Let us guide you through the process of discovering your dream property in this vibrant San Francisco community.
Speak to a Cow Hollow Neighborhood Expert
A note about how this blog post came to be: After publishing our building information page, we were contacted by an owner in the building who kindly suggested we might want to do some more research. So we did!
Marina Chateau Homes For Sale:
Condominium
$2,300,000
MLS# 423905857
This quiet and serene Golden Gate Bridge view penthouse crowns the coveted Marina Chateau. It pairs 1920's stateliness with gorgeous renovations of the kitchen and baths. The formal entry gives a hint of what's to come. You enter the open...
Condominium
$849,000
MLS# 423908383
Experience the ultimate SF lifestyle at the iconic Marina Chateau. Step inside this Spanish Mediterranean style gem, where modern comforts blend seamlessly with vintage charm. High ceilings, arched doorways, vintage tile bathroom & generous living areas create a chic canvas...