Cool Thing 1: Steepest & Squiggliest Streets
Russian Hill is home to world-famous blocks of both Lombard St. and Filbert St. – the squiggliest and steepest streets in San Francisco respectively. Lombard St. has eight switchback turns over a single block. These twists and turns make it a sight to see from top to bottom. An iconic "to-do" for most visitors, it is a popular tourist attraction. City officials estimate nearly 6,000 visitors a day in the summer. City lawmakers recently (2019) passed legislation to require a reservation and toll on the street to curb some of the traffic.
Not interested in curves, just steep descents? Nearby Filbert St. (between Hyde & Leavenworth) has a 31.5% grade and is a popular spot for filming car chase scenes in films.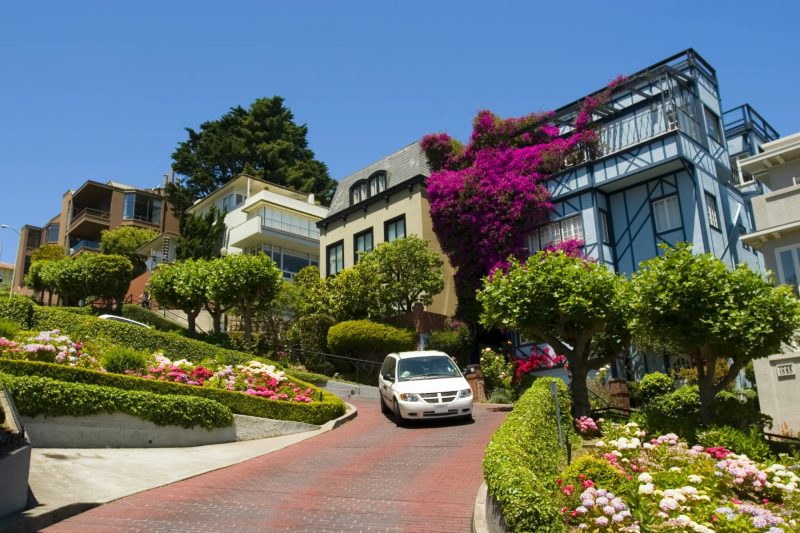 PS – Vermont St. in Potrero Hill is actually the crookedest street in San Francisco. It's tucked away and takes a little more effort to find, but it isn't nearly as photogenic as Lombard St.
Cool Thing 2: San Francisco Art Institute
The  Art Institute at 800 Chestnut St. isn't just for students!
Visitors can find a fresco inside the Institute painted by famed Mexican painter Diego Rivera. Rivera titled it The Making of a Fresco Showing the Building of a City and completed it in 1931. Visitors can view the fresco for free. Alternatively, the San Francisco Art Institute also holds exhibitions for current and past students to display their work. Artist Mike Henderson has a current exhibition titled "Honest to Goodness." It runs until November 17th, 2019 and displays a selection of his work over a span of 50 years.
Cool Thing 3: Francisco Park
The city is converting the old reservoir in Russian Hill into a useable shared community space. The gold rush brought rapid growth and expansion to San Francisco and as a result the city built the reservoir to accommodate new needs.
However, the city closed it and it has remained unused for decades. Construction on Francisco Park began this summer and will be completed in late 2020. The park plans include a children's playground, fenced dog-run, and community garden.
Condo Buildings to Consider