The hilly, verdant outcropping in the middle of San Francisco Bay that historically has been home to a Coast Guard Station, birds, and flowers, is now the Bay Area's latest place to buy a house, condo, or flat.
Welcome to Yerba Buena Island, where you can live in the middle of the Bay, literally…
First, a point of clarification.  Yerba Buena Island should not be confused with Treasure Island. The two co-exist in the middle of San Francisco Bay, serving as among other things, a mid-point anchor for the San Francisco Bay Bridge that connects San Francisco and Oakland. However, there are distinct differences. Yerba Buena Island is natural; Treasure Island is artificial. Yerba Buena is hilly; Treasure Island is flat. There will be no retail on Yerba Buena, while a plan for Treasure Island calls for 140,000 square feet of retail and commercial space.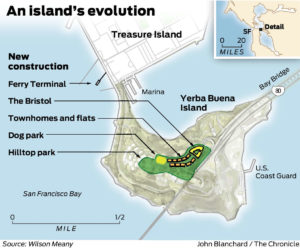 The homes on Yerba Buena Island are the important first step in a multi-year development plan for the area. It marks the first phase of the massive redevelopment which also includes Treasure Island. There, 7,744 other units are to be built, along with a hotel, restaurants, and retail. The revenue generated from the condo sales on Yerba Buena Island will help pay for new infrastructure on Treasure Island.
So why call Yerba Beuna Island home? There are plenty of reasons. 
There are sandy beaches, five miles of trails, 72 acres of parks, and green space. A stand-alone roughly 10,000 square foot "island club" will open to residents roughly a year after the first home move-ins. In addition to a stunning lobby, it will feature an outdoor lounge with fire pit, sun deck, 25-meter outdoor pool and spa, yoga studio, fitness center, spa-level with massage room, steam rooms, a meditation garden, and an "owner's level" with private kitchen and lounge.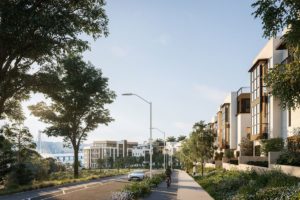 What About The Homes?
The Bristol will feature 124 homes with plans ranging from studio to three bedrooms. Townhomes will make up another part of Yerba Buena Island and are available in plans ranging from two-bedroom with loft to five+ bedroom plans. The Flats will be home to a collection of boutique condo buildings, each with between seven and nine homes. Homes in The Skyline neighborhood are townhome-style plans featuring a central courtyard, private garages, and a separate casita home off of the garage. Estate Home Sites will feature five lots designated for the development of grand estate-style single-family residences.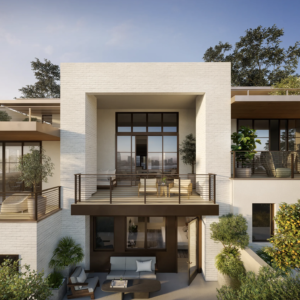 Owning on Yerba Buena Island comes with the perks of community living—there's also a modern terrace with an outdoor fireplace, massage room, and dog park. With a premium placed on privacy, each home has its private entrance and attached garage. 
Many of the basics already are in place, such as the three new water tanks that will serve both islands and have a 5.3 million cubic gallon capacity. The main roadways are complete. The causeway between the two islands has been rebuilt.
But It's An Island. How Will I Get There? 
Of course, you can drive to Yerba Buena Island and there is frequent bus transportation from downtown. But the most exciting recent development is the launch of the Treasure Island Ferry! The ferry service will consist of a 48-passenger boat that'll take riders from the San Francisco Ferry Building's Gate B to the island. Operated by the company Prop SF, the service will be available 16 hours a day, every day of the week. Tickets will cost $5, and monthly passes will cost $150.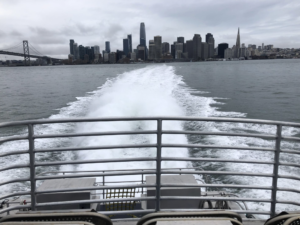 And let's face it. It is always breathtaking, no matter how much of a jaded San Franciscan you are, to see Treasure Island, the bay's cargo ships, the Bay Bridge, the SF cityscape, Alcatraz, and Angel Island from new angles and perspectives from which you have not seen them before.
Read all about how Jackson Fuller can show you around and find a home on Yerba Buena Island here.