Anywhere you can afford it. The end. 
And we are not being facetious.
The number one mistake first time home buyers tell me they have made is that instead of buying something they could afford, they held out for something they thought was financially out of reach and therefore never bought anything. They never realized many of the benefits of homeownership, including but not limited to saving money monthly and federal and state government tax breaks or write-offs. 
Does the Property Type Matter? Less Than You Think
People often think that their first time home purchase shouldn't be a condo, and that if they can't afford a single family then they shouldn't buy anything at all. This has not been our experience. Jackson Fuller has clients buy condos for 400k and sell them for 1.170 million. That's appreciation! 

Maybe you don't want a condo forever, but if you pick a solid building in a convenient location then you can expect it to be a smart investment. It will make you money and build your wealth towards your next home. 

Tenancy in common (TIC) is a good idea if you pick the right neighborhood (see below) and work well with others. If you don't get the appreciation, you'll at least get the tax write-off. 
Property Location
SF has dozens of neighborhoods, some count 90+

You need to buy in a neighborhood based on comfort, safety, amenities, schools and other factors. We want you to know just because the neighborhood name isn't a "landmark address" synonymous with the Getty family or mega yachts doesn't mean it's a bad purchase. 

Look very locally, like street by street. Not every street and building in a neighborhood is the same – you'll find the very expensive and high value streets/buildings in every neighborhood. 
Timing Is Everything. And the Time Is Now
Timing of a sale can control whether or not you make a profit, 

If you aren't going to live in a home and you don't want to sell it, do you have the financial resources to live somewhere else and rent or otherwise re-purpose your SF asset? 

If you have an unexpected event in your life, do you have the resources to make payments for 3 – 6 months while you come up with another life plan? 
What follows are five neighborhood summaries that rank highest in safety rankings, schools, SF livability and perfect for first time home buyers. Check out homes any of the 90+ San Francisco neighborhoods here.
One of San Francisco's most family-friendly neighborhoods, Bernal Heights is often referred to as "Maternal Heights" by locals—and with a quiet atmosphere, community gardens, and kid-friendly parks, it's easy to see why! Here, you can find a wide range housing options from renovated condos to Victorian-style bungalows. Bernal Heights is also close to the Glen Park BART Station, so traveling into San Francisco's Financial District, Oakland, or over to San Francisco International Airport is easy!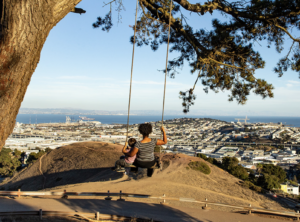 Things to Do in Bernal Heights
Take a stroll through the Rock Labyrinth at Bernal Heights Park. Find some of the freshest produce in the Bay Area at Harvest Hills Market. Let your four-legged friend play with other dogs at St. Mary's Dog Play Area. Grab an ice cream cone from Precita Park Cafe and take a walk through the butterfly garden at Precita Park. Chow down on a Sonoma Lamb Burger and Garlic Fries at Bernal Star. Order Southern-inspired dishes like Bucket O' Chicken and Hot Boiled Peanuts at The Front Porch. Enjoy the family-friendly atmosphere, hand-drawn menus, and popular Zoodles at Emmy's Spaghetti Shack. Sample a variety of cocktails like the Junglebird or the Turf Club from the ever-changing menu at Holy Water. Cool off with a cone of Chocolate Caramel Crackle or Halo Halo ice cream from Mitchell's Ice Cream. Or attend a "Daytime Realness" drag show at El Rio, one of San Francisco's best gay bars.
Looking for a safe neighborhood in the heart of the Bay Area? Noe Valley is worth checking out! Though this San Francisco neighborhood is popular among families and retirees for its green spaces, low crime rates, and good schools like Alvarado Elementary School, it's also a hot spot for singles and young professionals who want the a mix of urban and suburban life. Noe Valley offers more spacious homes away from Downtown San Francisco, but it also has quick access to the city center via the Muni Metro Light Rail.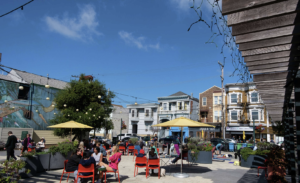 Things To Do In Noe Valley
Have a peaceful picnic with gorgeous views of the entire neighborhood atop Billy Goat Hill. Join a pickup basketball game at Upper Noe Rec Center. Chase the kids through the jungle gym at Douglass Playground. Search for new books or take the kids to storytime at Charlie's Corner. Wake up with a Tumeric Latte and a slice of Avocado Toast with Burrata from Neighbor's Corner. Satisfy your sweet tooth with a Peach Blackberry Pie or a Milky Way Bomb from Noe Valley Bakery. Sample some of the best Chinese food in San Francisco with Mango Prawns and Sesame Chicken from Alice's. Get friends together to share an Alberto's Classico Pizza and Pepperoni Rolls at Haystack Pizza. Watch your favorite sports on the big screen while sipping on a Vendetta IPA on the patio at The Valley Tavern. Or stop by The Dubliner for Trivia Night and a Manhattan.
Located along the San Francisco Bay, North Beach is home to some of San Francisco's best things to do. Popular areas like Fisherman's Wharf and PIER 39get a lot of tourist attention, but there are plenty of off-the-beaten-path restaurants, bars, and shops for residents to frequent—especially in the neighborhood's "Little Italy" area. As for housing, if you're hoping to buy a trendy apartment or condo with great views of the city and the bay, North Beach might just be the spot for you!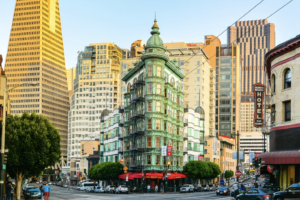 Things To Do In North Beach
Join your neighbors for live music and entertainment, Italian street painting demonstrations, and the Blessing of the Animals each summer at the North Beach Festival. Attend poetry and literature readings at the historic City Lights Bookstore. Take in 360-degree views of the city and the Golden Gate Bridge from the observatory deck at the top of Coit Tower. Catch cult favorites and classic movies like Mean Girls or Star Wars during a free movie night in Washington Square. Enjoy shows featuring upcoming comedians and established standup acts like Dave Attell and Tommy Davidson at Cobb's Comedy Club. See why Tony Gemignani is a 13-time World Pizza Champion with a St. Anthony pie from Tony's Pizza Napoletana. Get your fill of Asian fusion and mimosas with a Bottomless Dim Sum Brunch at Chubby Noodle. Unwind with a Hemingway Daiquiri or a Bombay Sapphire Martini in the sophisticated lounge at Tony Nik's. Or rock out during a live performance at one of San Francisco's oldest nightclubs, Bimbo's 365 Club.
Pacific Heights is one of the most prestigious and beautiful neighborhoods in San Francisco, which also makes it one of the more expensive. But for many residents, the views of the city, the well-manicured parks, and the luxurious Victorian-style houses are well worth the higher price tag! Pacific Heights also neighbors The Presidio and the Marina District, both of which offer incredible outdoor activities in San Francisco!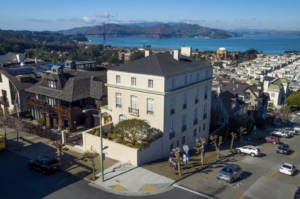 Things To Do In Pacific Heights
Tour the iconic Palace of Fine Arts in the Marina District or hit the links at the Presidio Golf Course in the Presidio. Climb the giant staircase at Alta Plaza Park for panoramic views of the Bay Area. Perfect your serve and backhand on the tennis courts in Lafayette Park. Experience what life was like during the Gilded Age with a tour through the Haas-Lilienthal House. Fill up for a productive day with Spicy Baked Eggs and Smoked Salmon Toast from Jane on Fillmore. Feed the whole family with Carbonara and Clam Pie pizzas from Pizzeria Delfina. Make date night special by ordering Steak Tartare and Authentic Japanese Kobe Ribeye at Harris'. Indulge with a pint of Pots of Gold & Rainbows or Chocolate Gooey Brownie ice cream from Salt & Straw. Or meet up with friends to enjoy a Duvel Golden Ale or a Bobby Burns cocktail at neighborhood watering hole Hi-Lo Club.
Want to live in San Francisco but don't want to be in the heart of the action? Parkside is the place for you! Located on the western edge of the city along the Pacific Ocean, this neighborhood offers large green spaces like Pine Lake Park and Larsen Playground, affordable condos and unique Rousseau-style homes, and exceptional schools like Herbert Hoover Middle School and Abraham Lincoln High School. And living in Parkside means you have direct access to the beach!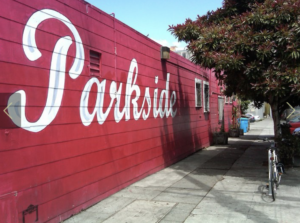 Things To Do In Parkside
See penguins, tigers, and sloths at the San Francisco Zoo. Spice up game night with some new options from Versus Games. Build a sandcastle and hunt for seashells at Ocean Beach. Play with your dog and make friends from underneath the shady pergola at Stern Grove Dog Park. Go for a jog or sit down for a sunny picnic in the expansive green space at McCoppin Park. Sidle up to the counter for an Irish Breakfast or a California Scramble at New Taraval Cafe. Cook Pork Belly, Chinese Sausage, Pork Dumplings, and more in your table's hot pot at Simmer. Try Shanghainese cuisine like Crab & Pork Steamed Dumplings, Beijing-Style Sweet Buns, and Seafood Chow Mein at Dumpling Kitchen. Or huddle around the back-room fireplace with cocktails like the Maple Hammer or Juniper Spire at White Cap.
Want to learn more about buying a home? Check out all the ways Jackson Fuller can make your home buying experience a breeze.