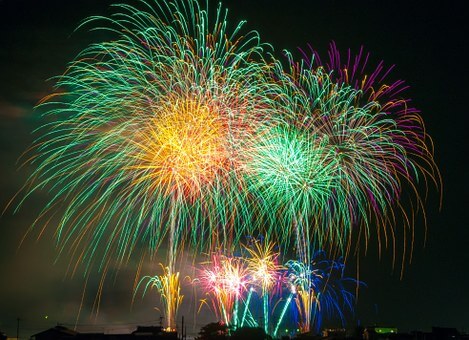 Premier 4th of July Fireworks Dinner Cruise
Leave from Pier #3 and enjoy this Hornblower Cruise on the 4th of July. It will last four hours and will include plenty of amazing views of the Bay Area. You'll get to see the skyline of San Francisco, enjoy a four-course dinner, take in the life entertainment and even take in the fireworks. When the sun goes down, you can head outside and enjoy the San Francisco Fireworks Show from the outside decks of the yacht. You'll have the best seat in the house!
Oakland Athletics Baseball vs. Chicago White Sox
Maybe fireworks aren't all that important to you or you want to enjoy America's Oldest Pastime during the day. The Oakland A's will be taking on the Chicago White Sox at 1:05pm at the Oakland Coliseum on the 4th of July. You can come and cheer on the Bay Area team with plenty of fun to enjoy at the ballpark.
Live Music at the Aquatic Park
Music will start at 6pm at Aquatic Park, which will provide a great place to celebrate the 4th of July. Along with the Music you can enjoy Pier 39 Entrance Plaza, which includes plenty of shopping, dining and attractions. It's also a great place for the fireworks show and you can make a night of it.
4th of July Fireworks Cruise
Leaving from Pier 39 the Blue & Gold Fleet cruise will provide an incredible fireworks cruise. Six different departure times will provide your family and friends with great options for a 2.5 hour evening cruise. The boats will come back right after the firework sand you can enjoy a full cash bar, and snack bar during the cruise.
City of Alameda Mayor's 4th of July Parade
A very popular parade, the Alameda Fourth of July Parade is one of the longest running and largest in the area. It will include more than 160 floats, over 2,500 participants and plenty for spectators to enjoy. Dance troops, antique cars, equestrians and plenty of bands will be a part of the parade.
Other fireworks shows and events near San Francisco for the 4th of July include:
American Canyon Fireworks with a parade and festival
Aptos pancake breakfast, parade and post-parade party at Aptos Village Park
Berkeley Marina celebration with live entertainment, kids' playground, arts & crafts and fireworks
Foster City pancake breakfast, parade, live music, carnival rides and fireworks at Leo Ryan Park
Napa Valley wine train with wine, dinner and views of the Yountville Fireworks
Oakland fireworks after the night baseball game on Monday, July 3rd
San Pablo family celebration with live music and fireworks
There are plenty of great places to go throughout San Francisco for fireworks and other events. Make your plans now and you're sure to enjoy the festivities this 4th of July.