Say what you will about a pandemic that has cost America almost one million lives, but thanks to the fact most of us in SF support science and wear masks, our latest pandemic argument is about streets. We fully support Slow Streets and would like to see them become permanent across the city!
What's a Slow Street?
Created in April 2020 by the San Francisco Municipal Transportation Agency, Slow Streets were created as a quick way to create open space for people to walk, bike, or take other modes of alternate transportation during the shelter-in-place order. It has since grown to roughly 30 corridors spanning 47 miles in The City, including the Page Slow Street.
Goals for the Slow Streets program include making SF neighborhoods more welcoming and accessible for people who want to travel on foot, bicycle, wheelchair, scooter, skateboard, or other forms of micro-mobility.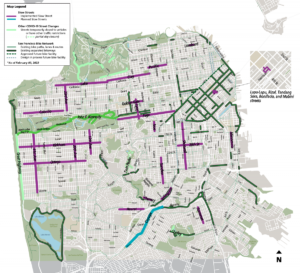 Image: www.sfmta.com 
In addition, Slow Streets attract users of the full array of neighborhood demographics—including children, older adults, people with disabilities, and people of color.
Neighbors Love Slow Streets
Surveys and data from the SFMTA show neighbors support Slow Streets. The people most impacted would like to see them become permanent. The transit agency conducted outreach and analysis on the entire Slow Street network. In particular, it looked at Lake Street, one of the streets considered for permanent Slow Street designation.
Its survey about Lake Street received 1,348 responses, 92% of which were from people who live in the neighborhood. Findings included
Nearly 67% of nearby residents supported keeping the road as a Slow Street.
Over 80% of all respondents said they noticed fewer speeding cars and felt the corridor had become safer since limiting traffic.
Safety has increased during Lake Street's tenure as a Slow Street.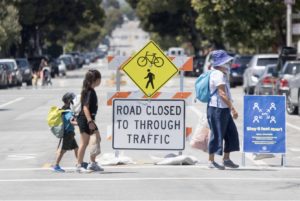 Image: www.sfmta.com 
Don't Kill A Good Thing
With the Omicron variant waning and the COVID pandemic transitioning to more of an endemic, various city officials are deciding whether to keep or kill the Slow Streets program. For example, Oakland's Slow Streets program is winding down, with city officials saying they want to turn attention to "focus on road safety improvements." And not everyone in SF is a Slow Streets fan. People point to the fact that with the pandemic over, Slow Streets are no longer relevant as kids have gone back to school, and some people have returned to office buildings.
What's Next For Slow Streets?
While the city continues to debate the importance of this program that has brought safer streets to neighborhoods across the city, where do you stand? Take a moment to let your supervisor know that you support slow streets and want to make them permanent! And if you are an advocate for opening them up, we'd love to hear more about why?