Another in our "Housing Styles of San Francisco" blog series. Listen to our podcast about exteriors with Dr. Color here.
In our last blog, we spoke about why we love the Victorian style of homes, mainly for their look and curb appeal. But what about the interiors of these homes. Aren't they equally as important?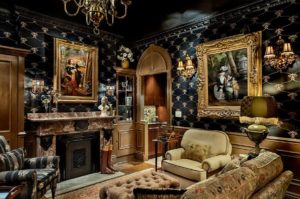 Victorian home styles abound from Stick Victorians to Eastlake Victorians or Queen Anne Victorians, to name just a few. While the precise details vary depending on who you ask and how precise you wish to be, what you can expect in general is a whomped-up exterior with plenty of intricate details, angles, and asymmetrical facades with bay windows of some sort. Inside? The original layouts consisted of many tightly-defined rooms with no (or very small) closets, high ceilings, and long hallways.  
6 Elements of Victorian Interior Design
If following tradition, here are some suggestions made for classic Victorian Interior Design.
Colors: The early Victorian period featured darker tones like burgundy, ruby red, forest green, navy blue, and deep brown, while the later parts of the era featured brighter hues and pastels. The era is more closely associated with those darker, more muted colors, which were necessary during that time period when most homes were heated by coal—darker colors hid the effects of the smoke and ash. 
Furniture: A single furniture style didn't dominate the era, but the furniture was defined by an excess of ornamentation. Victorian furniture was generally decoratively carved and over-stuffed, with pieces like button-back armchairs, chaise lounges, and ottomans. 
Lighting: Essential to this design style are light fixtures and candles, especially in areas such as dining rooms, living rooms, sitting rooms, and entryways. Tiffany lamps (with lampshades made of glass) were a popular style of the era for not only table or standing lamps but also for wall sconces and chandeliers. 
Home decor: Accessories and decorations are prominently displayed and cover every surface in Victorian interior design. Examples include a gallery wall of framed pictures, displayed china, souvenirs, vases, and lace doilies, the latter of which could be used on the backs of furniture, on tables, or on mantels. Additionally, embroidered cushions decorated couches, and potted plants like palms and ferns were popular. Stained glass was also a common way to add color to rooms. 
Window and wall coverings: Windows featured heavy fabric drapes and opulent window treatments, such as curtains lined with silk or wool. Walls were typically covered with the rich, dark paint colors of the era or covered by tapestries or wallpaper with bold floral, leaf, or vine motifs. Walls were sometimes painted to look like marble or wood-grained finishings. 
Flooring: Wood, specifically parquet patterns, is one of the most common flooring of the era. Other common floor types were matting, floor cloths similar to linoleum, carpeting (including broad loom, Venetian, and reversible), and toward the second half of the era, tiled floors with a repeating geometric design in the middle.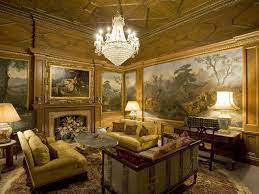 And while SF Planning makes sure that Victorian homes retain their historically charming exteriors, many interiors have been updated for modern life. What does that mean? It means that "Open-Plan" Victorian is not an oxymoron and that it is possible to find homes that retain the Victorian style on the outside but have been gutted on the inside with a den of small rooms replaced by an open living-dining-kitchen floor plan.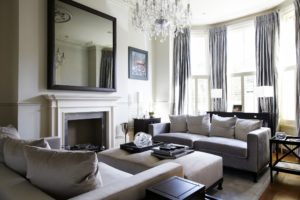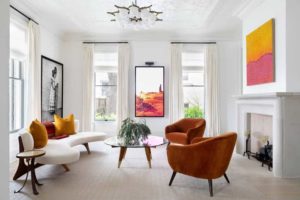 Want to see the full expanse of San Francisco Victorian Homes? Visit us at https://jacksonfuller.com/styles/ for a full listing.  You can also see Edwardian and mid-century style homes, as well as condos available by building.  Let us know how we can help.