With only 2 shops in the city, Bi-Rite rather impressively garners more than 7% of the grocery store mentions in the San Francisco MLS. If you thought San Francisco homes were expensive, go grocery shopping at Bi-Rite. It's an expensively delicious good time!
Safeway, with 16 grocery stores in San Francisco, offers the most geographic coverage. Logic would suggest it gets the most mentions. But no. Whole Foods, the granola-hugger-grocer-turned-Amazon-megacorp, with half the number of stores in the city as Safeway, manages to garner more than double the mentions of Safeway.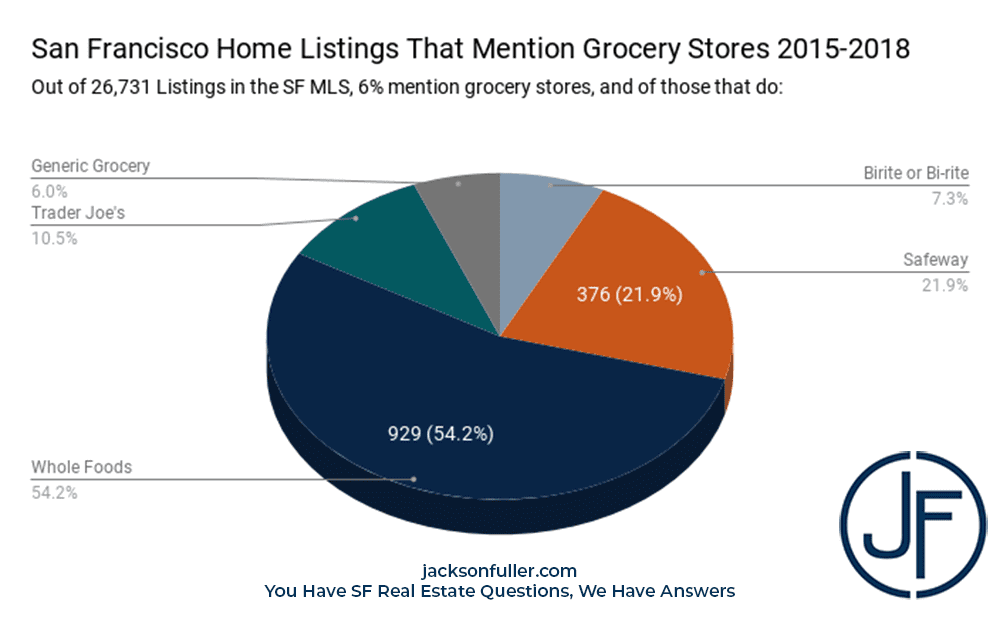 But most impressive is the cachet of Bi-Rite, which has only two stores in town but manages to pull down 7.3% of the grocery store mentions. Put another way, Safeway has 8x more locations than Bi-Rite, and only got 3x more mentions…
As for Trader Joe's? With six stores in the city (about the same number as Whole Foods), it lands in third place with 10% of the mentions. Whole Foods has about the same number of stores, but gets 5x the mentions!
Aspirational shopping?