Ask anyone to describe what makes San Francisco extraordinary, and Victorian architecture would land near the top of the list, somewhere between Alcatraz and VC money. (This is also a good time for this point of clarification: Victorian refers to a period, not a style. To call a building "a Victorian" means it was designed during Queen Victoria's reign from 1837 to 1901.) 
San Francisco was one of the first U.S. cities to take Victorian architecture and run with it. Developers created Victorian homes in the South Park section of the city back in the 1850s. They designed them to look like row homes in London. The gingerbread-house details are a more American addition, where no surface was left untouched. The style was super popular for large summer houses and later adapted for the urban row house and workers' cottages like those in Glen Park and Potrero.
Some of the key features of Victorian homes:
Large homes that are two or even three stories high

One-story porches that often wrap around the entire home

An asymmetrical shape that sets one Victorian home apart from the next

Very steep roofs

Covered in decorative trim and painted bright colors (more on that later. 
San Francisco is not the only U.S. city to embrace Victorian architecture. But there aren't many other American cities that showcase Victorian homes entirely as San Francisco does. One of the reasons for this because local redwood timber made it easy for developers and contractors to build Victorian homes. Redwood timber is very accessible in the Bay Area, and is also easy to work with when building Victorian houses. Unlike some other types of wood, redwood is soft. It's also easy to carve into many different shapes, which comes in handy when constructing detailed Victorian homes. From 1850 through 1915, developers built almost 50,000 San Francisco Victorian houses.
Rob Thomson, president of the Victorian Alliance of San Francisco, the city's oldest all-volunteer nonprofit dedicated to the restoration and preservation of historically significant structures, estimated that only 13,000 to 15,000 of the city's original stock of 50,000 Victorian buildings remain, most of them residences.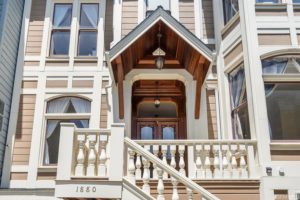 "The houses are located in all the city's neighborhoods," he said, adding that the alliance's annual autumn house tour typically attracts 500 to 1,200 people. "But some of the most spectacular concentrations are in Alamo Square, the Mission District, and Noe Valley."
Today, the remaining homes are under the protection of vigorous historical preservation rules. Everything from the choice of exterior paint colors to indoor kitchen pulls and knobs all have strong guidance from the Victorian preservation societies. They are also some of the most sought-after homes in the Bay Area. 
If you love Victorian Home styles, we've made it easy to find one in San Francisco for sale! Browse listings of Victorian-style homes in the bay area now! 
Click here to see a curated list of Victorian homes for sale in San Francisco.