What was once a parking lot and funeral home (Sullivan's) has risen from the proverbial ashes as neighborhood housing. 2238 Market Street is home to 42 homes and incorporates the historic Sullivan's structure as ground-floor retail and one very special condo home, while the rest of the building is new new construction.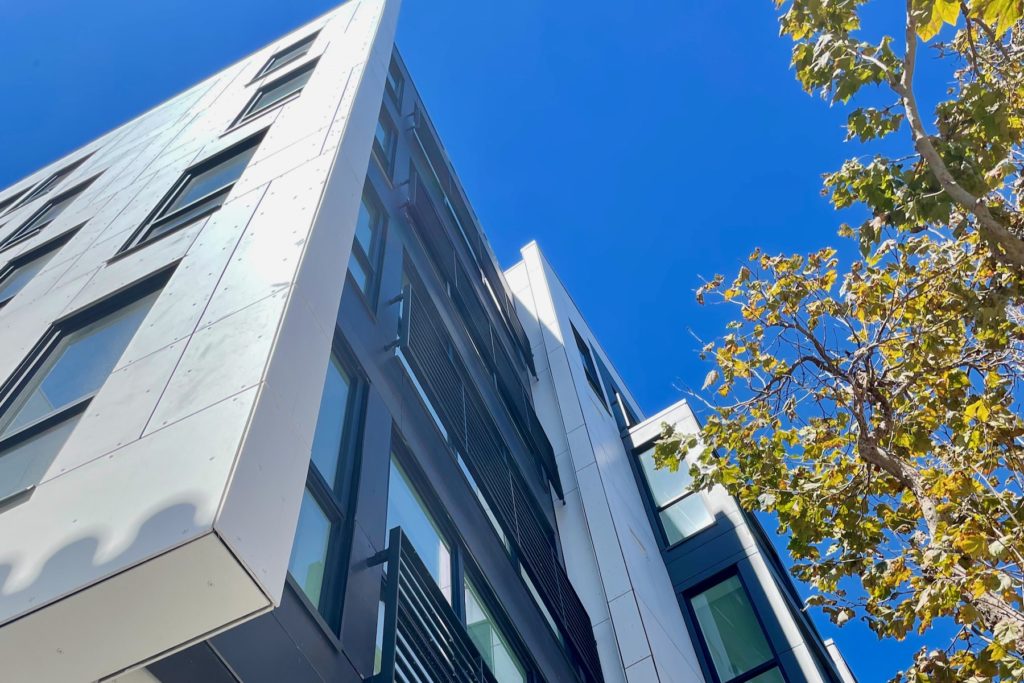 Located between Sanchez and Noe and right next door to Beck's, it's in the heart of the Castro neighborhood although it falls in Duboce Triangle on a SFAR real estate district map.
The building is going for LEED Platinum certification and employs a variety of green building techniques from a living roof to building panels designed to minimize the building's heat footprint. Behind the sidewalk security gate lies a beautiful transition zone that welcomes you to the glass door of the unattended and elegant lobby.
Latch smart locks control building access, so if you've got a smartphone, you've got your keys. The lobby has a delivery area with refrigerators for groceries and other perishables as well as a secure package delivery system. And mailboxes! Good old fashioned mailboxes.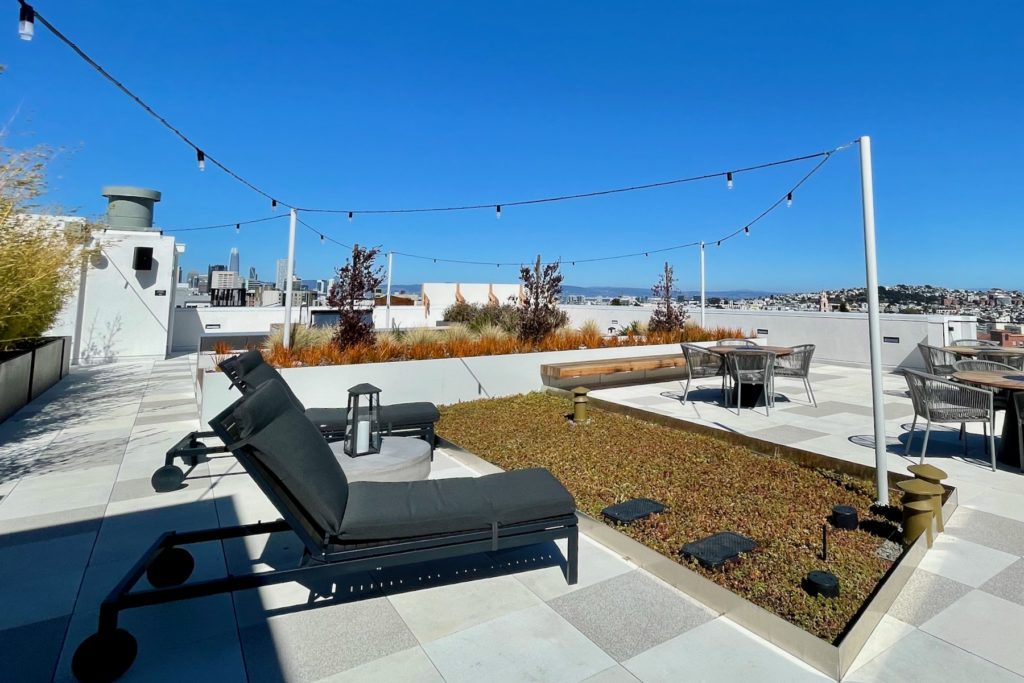 With the exception of the first and fifth floors, each floor has about 10 homes while the first and fifth floors each have five homes. The building mix is about 20 two-bedroom homes, 10 one-bedrooms/one-bedroom+den and 10 studio (jr. one beds) homes. There are two three-bedroom homes, both located on the fifth floor. In addition there are two exceptionally large townhomes that front 15th Street. There are five BMR homes on-site.
In addition to the Latch smart system and modern delivery zone, the building also features garage parking in regular spots for about 20 of the homes, and a generously sized roof deck with multiple hangout areas, air-conditioning in every home, bicycle parking (garage or secure room), and a pet-wash station. There are garbage chutes on each floor that comply with SF's garbage/recycle/compost sorting system.  Parking spots are EV capable, but it is left to each owner to install EV charging equipment and connection at their choosing.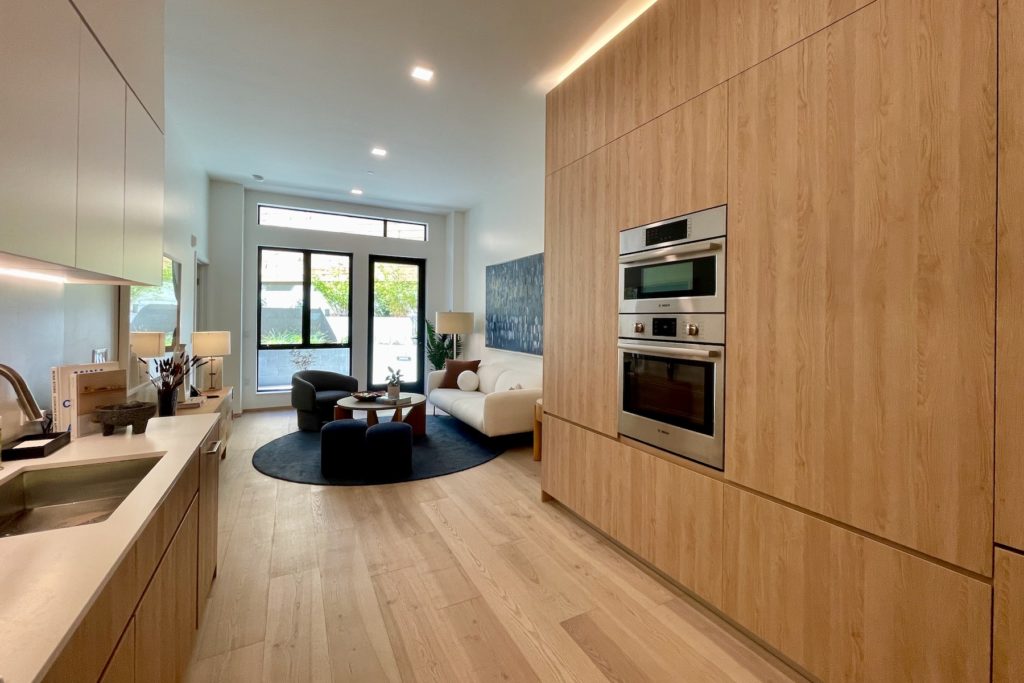 Homes are finished out in beautiful wide-oak engineered flooring throughout the home. Kitchens come standard with a Bosch appliance package, quartz countertops with a suede finish and integrated LED lighting. They look snazzy. Homes also include ventless stacked washer and dryers, leaving only closet organizers and window coverings to finish out a home.
Meet the Interior Bedroom
The majority of two-bedroom homes feature what I like to call "interior bedrooms" that may put you off a bit if you are expecting a traditional bedroom.
A traditional bedroom* has:
Closet
Window that is exterior/light-well/operable for natural light
Door
An interior bedroom differs:
Closet
No window(s)
Glass door is the natural light/ventilation source
To summarize: an interior bedroom has a door for privacy and a closet for clothes, but no windows.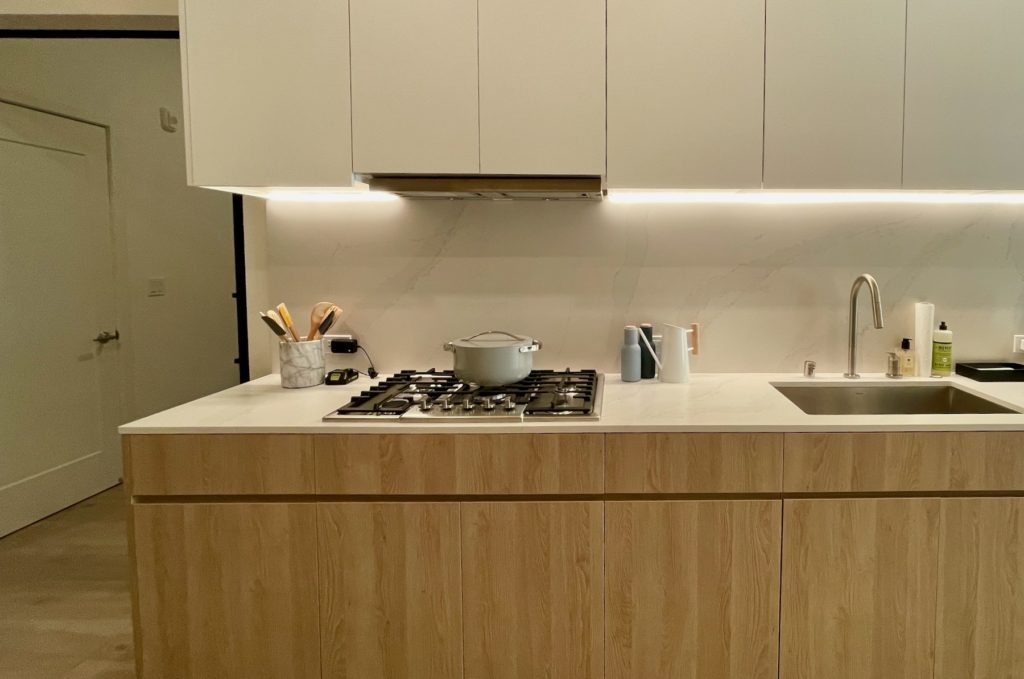 Meet The Moods
Depending on where you are in the building, the homes have dramatically different feelings.
The Market street facing homes are incredibly quiet with bustling city life outlooks on lower floors and views to Dolores Park and Bernal Heights on upper floors. Large windows let in lots of light.
Rear facing homes also have large windows and may have a patio, an outlook to terraced plantings, or a treehouse view. While they are just as quiet as the front homes, the less busy outlook made these homes feel calmer and more serene to me, and upper floors on the rear of the building have some beautiful views to Buena Vista Park and Corona Heights.
Several homes have exceptional ceiling height with a dramatic feel.
One home has an exceptional dark-wood and gray stone finish package, and it is stunning. It's also on the fifth floor with one of the sexier skylights I've ever seen.
The Other Details
Construction was delayed because pandemic and supply chain, but homes are now finished and ready for buyers. As of August no homes have closed, but a substantial number are in contract with closings expected in the fall.
HOA dues are on the lower side because there are no on-site staff or swimming pools.
The Neighborhood
The neighborhood is the amenity. Located on the southern boundary of Duboce Triangle, the building is in the Castro and close to Mission Dolores, mid-Market, Corona Heights, and Hayes Valley. While the quality of Castro restaurants can be debated, a vibrant and bustling retail district with an international reputation awaits you.
Next Steps
Interested in independent representation in new construction? Then reach out and we're happy to put our relationships and insight to work for you. You may also contact the developer directly through their website.
* San Francisco building code does not define a bedroom. It does define habitable living area and sleeping areas. A closet isn't technically a requirement of the code, it's just common sense.